What is the Warranty/Guarantee on furniture?
Each manufacturer offer their own specific warrantee. Toronto Office Furniture works mainly with manufacturers who offer warrantees that reflect the need for furniture purchased for office environments to be durable and long lasting. When you are discussing a specific purchase, we would be happy to provide you with the specific warrantees for the furniture you are considering.
How long does it take to manufacture?
Office furniture typically takes 3 weeks for more standard components. Panels systems typically take 5-6 weeks. Timing can be dependent on fabric and/or laminate selections in some cases.
There are some quick ship options available.  Check them out under the Quick Ship section.
Is there a delivery charge?
Yes, there is a charge for delivery and installation of office furniture. These costs are not factored into pricing as each purchaser will have different requirements such as location, timing or the requirement to carry-up. The majority of furniture is pre-assembled and requires two experienced movers to pick-up, deliver and install. Some customers do choose to pick up items but are required to have two strong individuals and a truck that can accommodate finished or partially finished furniture.
Are you open on Saturday and Sunday?
No, we are not open on Saturday and Sunday. We work mainly with businesses who correspond with us during the work week.
Do you do on site visits/consultations?
Many of our consultations can be fully accomplished via phone, email, and showroom visits, including space planning and furniture selection. Site visits and consultations can be arranged when this fits the specific needs of the project.
What are the things that I need to plan for in designing a new office space?
When you are moving into a new office space here are just some of the things to consider:
How many people will need to be accommodated?
How will they be organized (e.g. groups, offices, departments, etc.)?
What shared space will be required for meetings and collaboration?
What type of work space do they each need?
What type and volume of storage will be required?
When will the premises be ready to move in?
If you are planning for new or additional furnishing or need to re-organize within the new space, allow yourself 2-3 weeks for planning and selection and another 3-6 weeks for manufacturing, and delivery and installation of your furniture.
Do you have chairs suitable for all weights and heights?
Yes, because no person is the same, chair manufacturers make many styles of chairs that can support different weights and heights.
How do I adjust an ergonomic chair?
At the center of your office chair is the mechanism which interacts with you through different seating functions. Each individual has a unique, optimal comfort level when seated. Chair mechanisms are offered in a variety of designs which all provide a different degree of manual or automatic adjustment. The user should consider a pneumatic cylinder which gives you "finger-tip" seat height adjustment. Your daily work routine will help you to decide which style of mechanism is best suited to your needs.
There are three seating positions in the workplace pertaining to proper ergonomics:
Forward/Recline position – dedicated tasks
Upright position – dedicated tasks and multi task
Backward/Recline position – relaxed position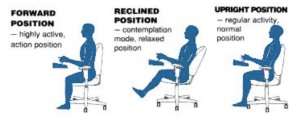 Stand in front of the chair.
Adjust the height so the highest point of the seat is just below the knee cap.
Your thighs should be parallel to the floor, when you sit.
This allows you to place your feet on the floor insuring good circulation in the legs.
Use a footrest if the feet cannot rest flat on the floor or if there is pressure underneath the thighs. The footrest should be adjustable and support the whole foot.
Sit so that the clearance between the front edge of the seat and the upper part of the legs behind the knee, is at least one finger width.
Adjust the back height to provide support to the lumbar or lower back area. This will help you to maintain correct posture and reduce back pain.
Adjust the seat angle by unlocking the mechanism to tilt the seat forward or rearward when working for extended periods of time. This minimizes pressure on the underside of the thighs and reduces tension on back muscles.
Adjust the back angle to provide firm support and help reduce back fatigue.
Adjust the optional armrest height to your comfort.
If using a fixed height worksurface, raise the chair to obtain the proper arm and upper body position.
Adjust chair height so elbows are about the same height as the worksurface.
How do chair mechanism adjust?
 


Back Angle
Back angle adjusts forward and rearward. Some chairs lock in an infinite number of positions

 

Back Height
Back height adjusts up and down and locks in various positions.

 

Seat Angle
Seat angle adjusts independently of the backrest using a single lever.

 

Seat Depth
The backrest can be moved in and out to allow additional seat depth.

 

Seat Height
Seat height can be increased or decreased with either a pneumatic or manual adjustment.

 

Forward Tilt
A 6 degree forward seat tilt is available if desired or it can be locked out.

 

Multi-Tilt
Seat and back tilt simultaneously at the same ratio. Multi-tilt action can be locked out in an infinite number of positions.

 

Knee-Tilt
Seat and back tilt simultaneously at the same ratio from a pivot point under the front of the seat. Knee-tilt action can be locked in an infinite number of positions.

 

Synchro-Tilt
Seat and back tilt at a two to one ratio. Synchro-tilt action can be locked in an infinite number of positions.

 

Tilt Control
Seat and back tilt simultaneously at the same ratio. A tilt-lock control is available on some models.

 

Tilt Tension
Degree of tilt tension can be increased or decreased.

 

Swivel
360 degree swivel only. Chair does not tilt. Fixed height chairs do not
What chairs are best with a boardroom table?
The chair you select for a boardroom should be reflective of how the boardroom is used. If you plan for only short meetings and get-togethers, a simple tilter with fixed arms may be sufficient. If your boardroom is used often for long, working meeting, it will be important to consider a chair with ergonomic features that allow for adjustment and greater support over a longer period of time.
How do I select the Right Workstation?
When searching for the right workstation it is important to consider its purpose which will be decided by the nature of your tasks. It is best to look for products that have been designed and engineered to help make your workspace more productive.This can be achieved in a variety of ways. As a guide, observe how your work flows through your office in a typical day. It is likely that you'll uncover a number of distinctive and repetitive task patterns.Once these patterns have been identified, organize them according to their intended and frequency of their use. Now you are ready to investigate the pertinent factors that will determine the workspace you eventually select.
Office panels can be an attractive, practical and inexpensive way to:
Provide "Private" individual and/or group work areas through the use of:
Straight panels
Curved panels
Glazed panels
Provide additional storage through the use of:
Transaction tops
Overhead storage units
Direct the flow of traffic through the use of:
Five heights of panels
Eight widths of panels in six inch increments from 24″ to 72″
Reduce glare by selecting proper panel heights:
They may be freestanding or linked by hardware. The "Chromed", "Painted Epoxy" or "Fabric Wrapped" steel frames, which coordinate with existing office furniture. GPS Panels offer four grades of fabrics to enhance any color scheme.
What is a ¾ or Full Modesy?
A modesty is the front panel of a desk or workstations. A full modesty goes to the floor and a ¾ modesty is 7-8" off the floor.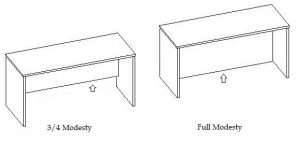 What is a Right or Left Return?
The return is an extension to a desk or workstation. When you are sitting at your desk, this extension is either to right or left.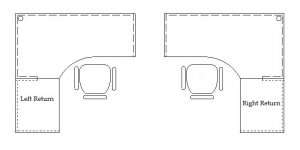 What are the different types of Pedestals?
A Box/File is a storage pedestal comprised of one drawer and one file drawer.
A Box/Box/File includes two box drawers and one file drawer.
A File/File includes two File drawers.
All three come in mobile models.
Is there a choice of handles?
Most manufacturers offer a choice of style and colour of handles. The range of choice is dependent on the brand of furniture chosen.
How durable is "laminate"?
Laminate can range in durability. The density of the core is the first aspect to consider. Some imported products have low density cores and can be less durable over the longer term. Office durable laminates manufactured in Canada have a long life with normal office use. If you require something stronger for your particular environment, high density laminates are available from most manufacturers at an upcharge. While laminates are resilient to spills cleaned up quickly they cannot withstand long-term exposure to moisture such as flooding or moisture held against the surface for extended periods of time such as under a potted plant.
Laminate with regular use will maintain a nice finish for many years. It can be scratched by a hard sharp object.
What is a Suspended or Freestanding Pedestal?
A box/file or box/box/file can be attached and suspended to a desk or workstation. These are finished on the front and one side only as they are attached to the desk gable. A freestanding pedestal, is just that, it can be used as a separate piece of furniture and is finished on all sides. It can be nested under a desk which is raised by its levellers.